Organizing your projects
Projects help you organize your tasks into separate lists. Your Todoist comes with a list of standard projects to get you started, but you can create, delete, re-name, re-arrange, and color-code your projects any way you like.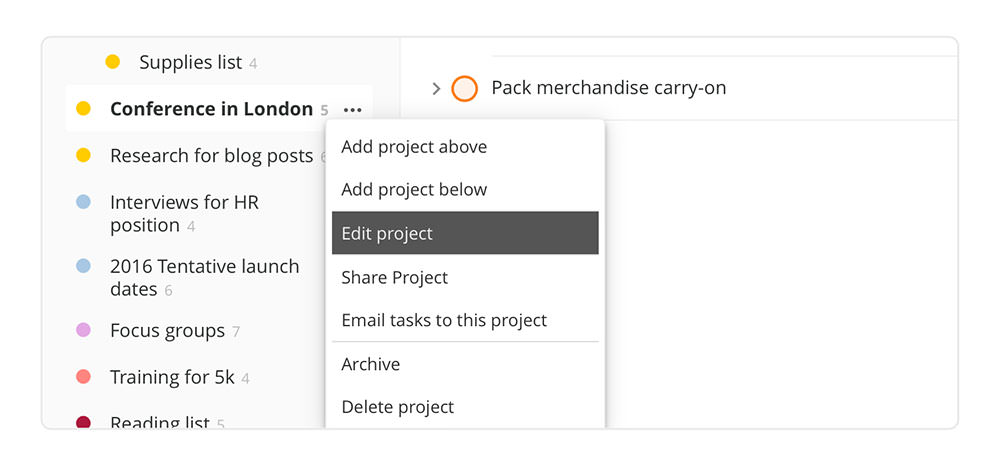 Creating new projects
Most users find it helpful to separate their tasks into broad projects like Work and Personal. Then they create new Todoist projects for bigger, long-term things they're working on. For example:
If you're a teacher, you could create a project for planning each class you teach.
If you're a software developer on an agile development team, you could create a new project to keep track of each sprint you work on.
If you work in marketing, you could create a project for each new campaign you plan to launch.
If you're a freelancer, you could create a project for each of your clients. (You can even share those projects with your clients.)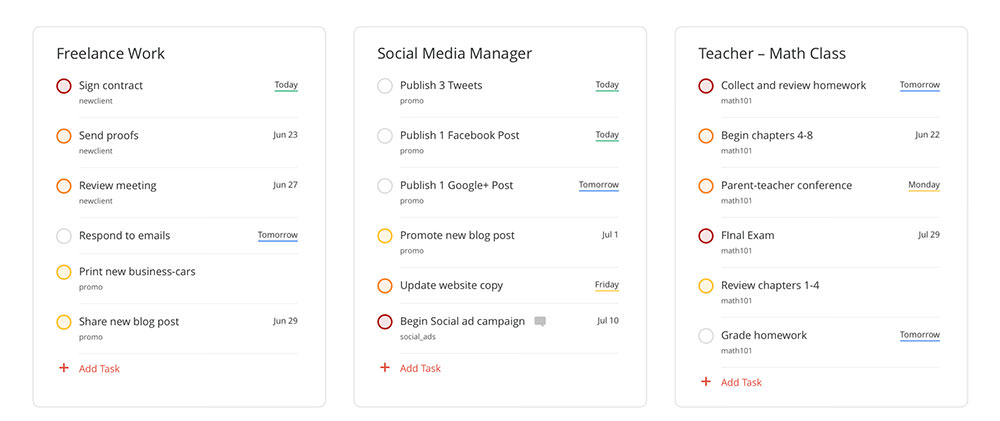 To create a new project, click Add Project at the bottom of your project list, type in your project's name, choose a color to make it stand out, and press Enter.
Planning your projects
To start out, try keeping your project list as simple as possible. That makes it easier to decide which tasks belong where, and helps you focus your time and energy on a small number of important projects at a time. You can always add more projects later.
For each new project you create, ask yourself what next steps need to be done to move it forward. Don't worry about getting everything down right away, you can always come back and add steps as they come up. Add each step you think of as a new task in your project.
To get started, identify the first concrete step you'll need to take to move that project forward. Drag and drop it to the top of that project's task list.
Todoist Tip:
You can quickly add a task to a specific project by typing # into the task name field. Todoist will automatically pull up a list of all your projects and narrow down the results as you continue to type in your project name. This shortcut is especially handy for quickly adding tasks on your mobile device.
Your Inbox
Not sure where to organize a new task? Add it to your Inbox first and decide later. Your Inbox acts as a default list for tasks that don't have a project yet, or tasks that aren't attached to any particular project. When you're ready, just drag and drop these tasks into the right project in your list.
Now that you have a concrete, manageable plan for tackling your projects and goals, let's take a look at how you can turn your big-picture plans into an organized daily to-do list.